Most fields in a purchase order can be edited after the purchase order has been issued. To edit any fields in a purchase order that has already been issued. This can be done through two methods:

Use of cell editing
With the power of cell editing, you can bulk edit purchase orders in mass or can do it individually from the Orders base views
When logged in, go to the Orders view dropdown or favorites

Select the base view

Accessible via the Open orders base or Parts on orders base views
Or through any creating views that you have

Locate the purchase order number you wish to edit




The following fields are editable:

Quantity

Unit price

Ship method

Target ship date

Order tags

Part description

Custom field

Click SAVE EDITS
Click SAVE AND ISSUE
This will be issued to all supplier contacts
Note: For more insights on how editing views work, check out the content here.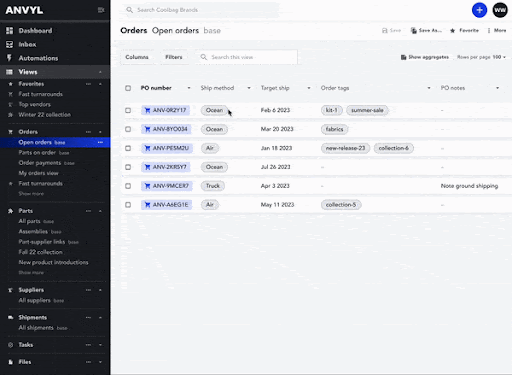 Order details page
You can access your order number from the views above or through global serach
When on the orders detail page, Click on the pencil icon next to Purchase Order
Click on the field you need to edit and enter the updated changes you wish to make.
Note

: Payment Terms can not be edited after the supplier accepts the PO unless the accepted PO does not contain Payment Terms yet.

Once all your changes are made, click Issue Revised PO.
If you would like to change the purchase order number, you can split the order and change the purchase order number on the second purchase order.
When making edits to a purchase order that has already been issued, we provide a revision history of each revised PO by user, so you can keep an audit trail.
View your revised PO file on the left rail with revision history.


View the Activity tab with the updates made as well as in the Files tab.