If you have an invoice that you need to reconcile, the Invoice Matching solution on Anvyl can help you quickly see where discrepancies appear between the invoice and the purchase. Follow the instructions here to use Invoice Matching:
When logged into Anvyl, click into the order you wish to invoice for.
Select the Files tab > Upload Files button.
Select the file you wish to upload.
(Note: please upload a .pdf file for automated invoice scanning)
Categorize that file as an Invoices.
Click Upload. When uploading invoices to Anvyl, our system automatically scans your file and pre-populates the appropriate fields for you to confirm and upload.
(Note: If the fields do not pre-populate, you may be on a Starter plan. Please contact support@anvyl.com to upgrade your account.)
Confirm or manually enter the invoice fields like part, quantities, $ amounts, and due date.

If there is a part or other line item included in the invoice that is not on the PO, you can add it in by selecting Add Part or Add Other Item.
Click Save. From here, the buyer will be able to review the invoiced and ordered quantities side-by-side via the Finance tab, make adjustments on their paperwork automatically, and improve speed to payment by having all the information necessary for approvals in one place.
Below is an example of what the brand sees when there is a discrepancy: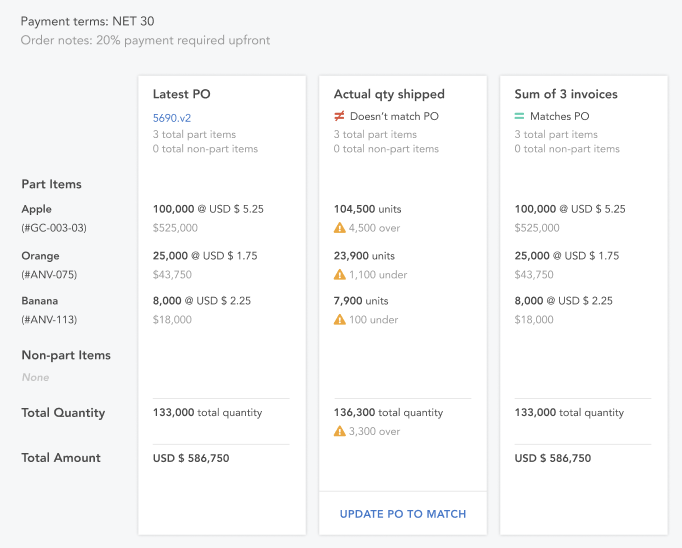 Watch the video below to see this in action.